Trust Wallet, a decentralized crypto wallet service and infrastructure company, has entered into a new relationship with MoonPay and Ramp Network in an effort to bring further utility to its consumers. This was accomplished by signing a new partnership agreement.
According to a report published by CoinDesk (1), the collaborations with the two payment firms would make it possible for users of Trust Wallet to transfer their tokens straight within the app into fiat currency.
When it was first introduced, Trust Wallet gathered a more than 60 million user base, making it one of the most prominent decentralized crypto wallet service providers.
When the FTX Derivatives Exchange collapsed a year ago, it sent a tremor through the business, which resulted in an increased demand for a culture of non-custodial savings.
As a result of the event, wallet providers such as Trust Wallet, Phantom, and MetaMask, amongst others, saw their importance skyrocket thanks to the fear that drove people to adopt the wallet.
But, Trust Wallet has recently shifted its focus away from fear to provide users with more functions that may compete favorably with hundreds of other competitors.
The reliance on centralized exchanges for the purpose of liquidating assets will now be lowered to the barest possible minimum thanks to the on-ramp technology that MoonPay and Ramp Network are currently pushing out for the advantage of users of Trust Wallet.
"Before our collaboration, users of Trust Wallet were forced to choose between the risk of simple, centralized custodial solutions and the more demanding jaunts of more secure, non-custodial solutions," said Said Szymon Sypniewicz, chief executive officer at Ramp. "Because of our partnership, users of Trust Wallet no longer have to make that choice."
According to the release made by Trust Wallet, the latest payment service will make it possible for users of the service who already possess at least 100 Trust Wallet tokens to gain access to additional increased perks.
This token cap, as it has been revealed, will assist in cutting the on-ramp fees for customers who qualify, which will ultimately result in the entire service becoming more accessible.
Thanks to this announcement, the Trust Wallet token, also known as TWT, is poised to embark on a bullish growth run.
When last seen, the price of TWT as it is currently being traded is $1.29, representing an increase of 8.8 percent over the course of the previous twenty-four hours.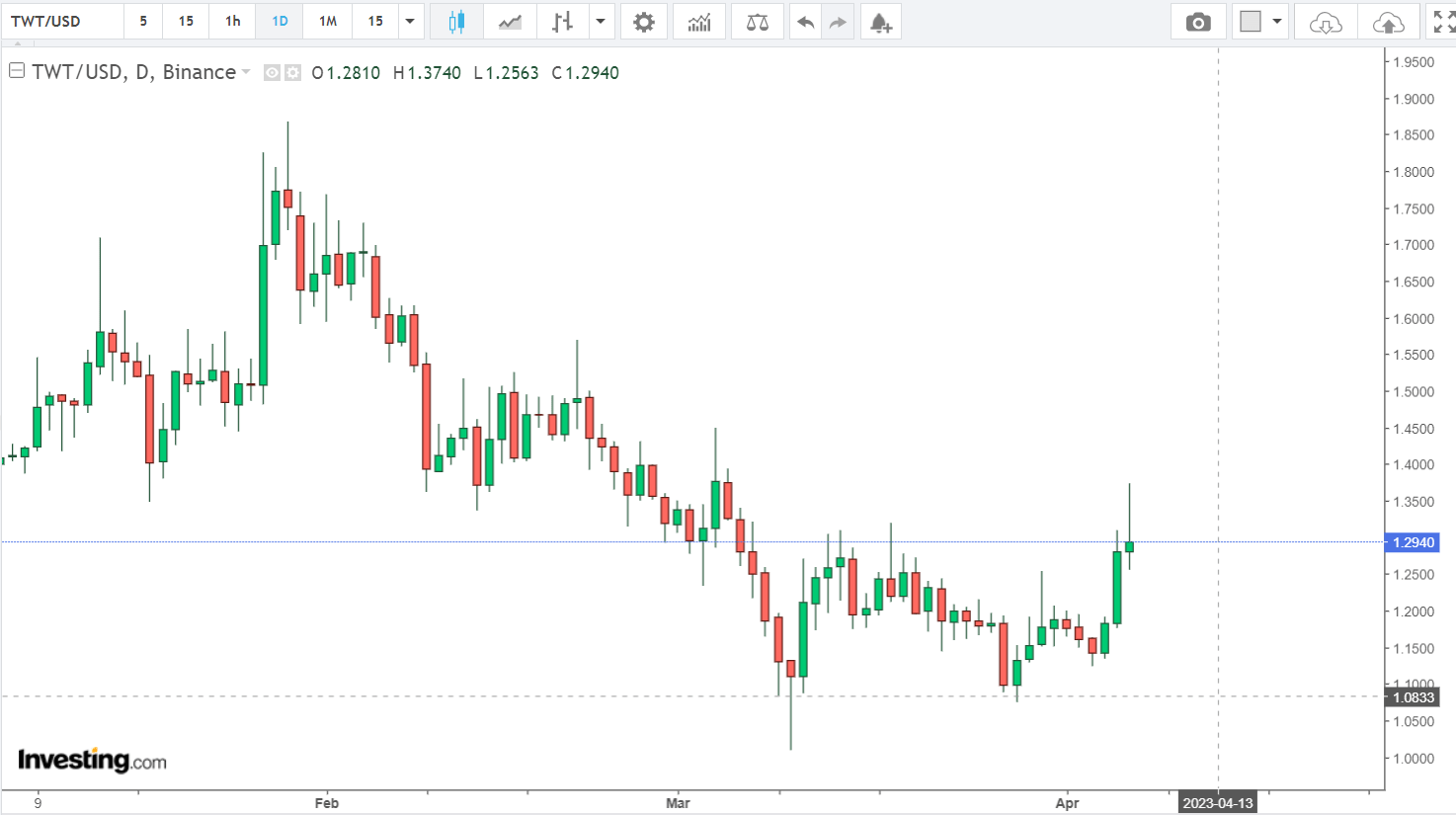 Introducing the Trust Wallet On Ramp
After being acquired by Binance in 2018, Trust Wallet now operates as a wallet and Web 3.0 architecture service provider under the larger Binance exchange umbrella.
Trust Wallet, a dynamic branch of the most prominent trading platform in the world, has introduced complete support for Binance DEX.
Offering an on- and off-ramp service in collaboration with MoonPay and Ramp Network is another direct way to encourage the millions of users relying on Binance for these solutions to become relatively independent.
CoinMarketCap is one of the most well-known organizations in the world, and Binance, the exchange, is one of its subsidiaries along with other well-known Web 3.0 network service providers.
There is one thing that all exchanges have in common, which is the fact that they claim to allow complete autonomy to the entities being traded. This claim has now been validated by the most recent offering that Trust Wallet has made available.